**PowerPoint & notes from my 10/24/17 UIC seminar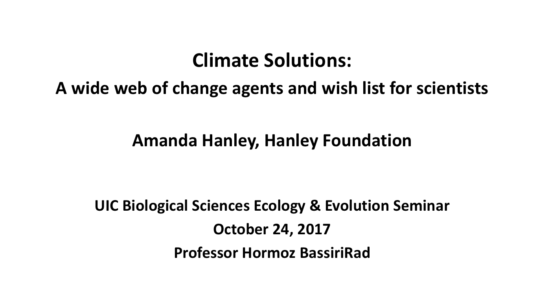 Great to be here. Today the tables are turned. I'm usually in your seat learning from scientists. I plan to share some of the projects I'm involved with, and how I see science implemented on the institutional side.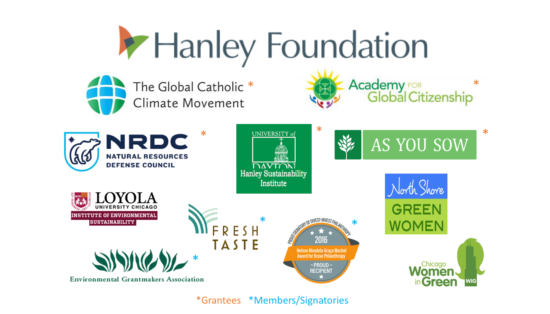 I've been working on sustainable solutions for almost 30 years since college and early career as environmental consultant. After seeing an Inconvenient Truth, I started to focus on climate issues. My husband I founded a family foundation that is now advancing climate solutions and environmental education.  I'm currently serving on boards, councils or as a member of these organizations, many of them our grantees of our foundation. Some are local, some national and some global.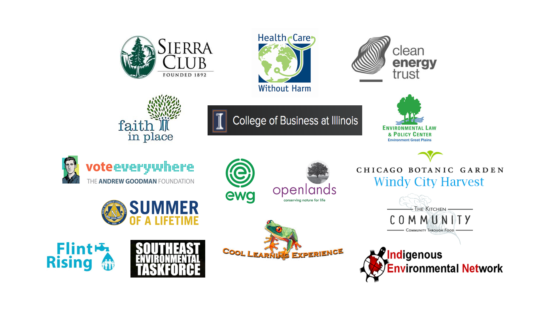 Our foundation also supports these organizations.  While some foundations narrowly target specific solutions, we cast a wide net. Our theory of change is that climate progress will come from many directions, so we are taking a systems approach.  We support legal defenders, front line coalitions, sustainable schools, faith-based and health care efforts, clean energy innovators, sustainable food systems, corporate accountability, responsible investing, and global initiatives.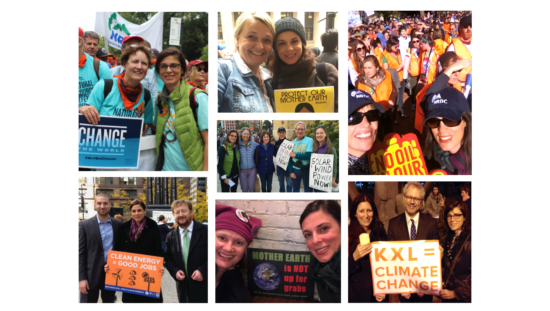 As an environmental activist and citizen, I try to live green. To keep up the pressure, I protest, march, testify, lobby, donate and vote. I've demonstrated at the March for Science in Chicago, People's Climate March in NY & DC, Women's March in DC, and a few others against the Keystone and Dakota Access pipelines.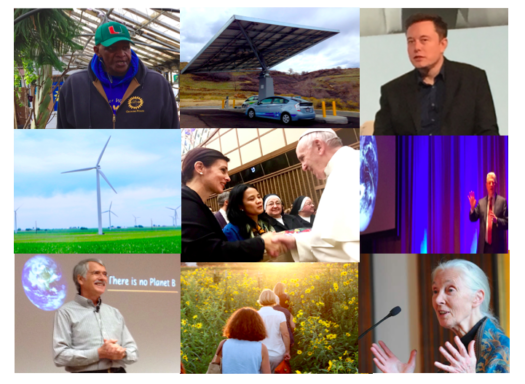 To learn and collaborate with others, I regularly attend conferences, tours and events. I want to see what is going on and hear from top thought leaders. As examples, I've toured urban farms and the greenest buildings, visited renewable energy labs, met actual climate scientists, and even attended Al Gore's famous slide show. I've been fortunate to meet many eco-heroes along the way.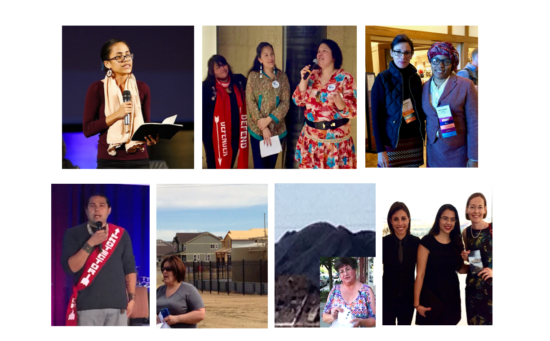 It's incredibly important to hear from people on the front lines. These activists have shared how climate change and pollution has put their families and communities in danger. Kathy Jetnil-Kijiner from the Marshall Islands, said her nation will vanish under the sea with 2 degrees more warming. Allison Akootchook Warden, a native Alaskan, explained their ancestral way of life is at risk with warming weather and melting ice. Flint Rising leader Nirah Shariff explained the horror of living in city with poisoned tap water, Indigenous Environmental  Network's Dallas Goldtooth, told us about the peaceful movement at Standing Rock that united over 200 Native American tribes to defend water against the Dakota Access pipeline. In Colorado, Erie Rising's Jennifer Palazzolo showed us toxic fracking wells in her neighborhood steps away from homes, schools and parks. Southeast Environmental Task Force's Peggy Salazar showed us massive toxic petcoke piles dumped in her Chicago neighborhood. Dulce Ortiz describes how the coal plant in her Waukegan neighborhood is making her community and family sick.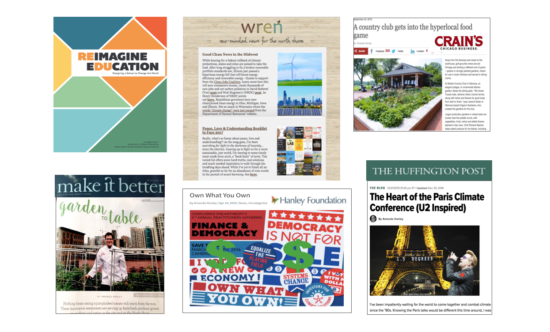 I spend a good deal of time researching and writing.  I think it's important to share stories and solutions I come across, and do so with an occasional newsletter, blog posts, newspaper and magazine articles, and recently a book.
When it comes to our foundation's priorities and the solutions we fund, here are 2 great frameworks.  Are you familiar with the UN Sustainable Development Goals? In 2015, 194 countries adopted these 17 aspirational goals to end poverty, protect the planet, and promote prosperity for all. Ideally our grantees address multiple goals. I also highly recommend this bestselling book Drawdown edited by Paul Hawken. It highlights 100 of the most promising solutions to reverse global warming. Several will surprise you. Any guess which six solutions rank at the top? 1. refrigerant management, 2. on-shore wind turbines, 3. reduced food waste, 4. plant-rich diet, 5. tropical forests, 6. educating girls. All solutions modeled are already in place, well understood, based on peer-reviewed science, and expanding around the world. It's is an incredible roundup that represents many of the solutions we support today and into the future.
I'd like move into highlighting some projects we're involved with, and show how science comes into play. I joke with people that I have environmental ADHD, because our efforts are moving the ball in every which way. I'm going to skim through a variety of approaches we are taking and we can dig deeper during Q & A.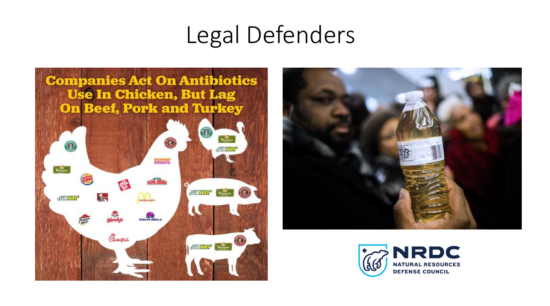 The Natural Resources Defense Council (NRDC) is one of the biggest, most effective environmental group made up of lawyers, scientists, and policy advocates.  Currently, I chair NRDC's Midwest Council here in Chicago, and a member of NRDC's Global Leadership Council. They develop and advocate for policies grounded in scientific data and litigate to enforce laws. Over 50 scientists are on staff, along with fellows and outside experts, with backgrounds in biology, physics, chemistry, medicine, toxicology, public health, engineering and economics. They work on climate change, clean energy, food, health, water, oceans and wildlife.
As an example, NRDC has an MD on staff focused on the overuse antibiotics in livestock production.  This is contributing to a serious health threat, with the rise of antibiotic resistant infections, like MRSA. In an advocacy role, NRDC is pushing food companies to reduce the use of these drugs in their supply chains. They also alert the public about companies that are improving practices and which ones are not.
In the Flint lead poisoning crisis, NRDC filed a lawsuit to protect the citizens of Flint. Scientists provided analyses of the drinking water contamination and public health implications. They reached a settlement requiring the city and state to replace water service lines within three years, and to provide water filter support, education and extensive tap water testing.
NRDC scientists are also working to stop dumping e-coli laden wastewater in public waterways; keep invasive species out of the Great Lakes; remove toxic flame retardants from the furniture we buy; protect pollinators from pesticides; analyze the ecosystem impacts from mining and drilling; reduce ocean noise from the military to protect whales and dolphins, and many other issues.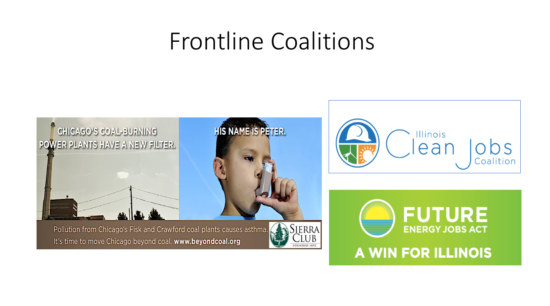 Back during the Bush administration, I thought climate legislation had zero chance, so one of our first environmental grants went to the Sierra Club's Beyond Coal campaign which began here in Chicago.  The strategy was to mobilize grassroots in communities to advocate for the retirement of old and outdated plants. Ten years later, and now a national campaign, 262 coal plants have been retired, with 261 to go. As you probably know, burning coal makes people sick. The smog creates asthma, respiratory and cardiac problems. It also releases toxic mercury emissions. Each year, this dirty energy causes $100 billion in health costs in the US and 13,000 premature deaths. Not to mention the health and ecosystem damage from mining, toxic coal ash pits (there are 91 in IL), and carbon pollution.
The Sierra Club unites with other groups to achieve success, including the Chicago Clean Power Coalition. This coalition helped close 2 of Chicago's oldest and dirtiest coal plants, Crawford & Fisk, in 2012. It included community groups on the front-line suffering from the pollution, such as the Little Village Environmental Justice Organization, the Pilsen Environmental Rights and Reform Organization, and the Southeast Environmental Task Force. LVEJO Director Kim Wasserman won the prestigious Goldman Environmental Prize for her efforts during this campaign. Another group, the Respiratory Health Association, provided public health data on the effects of these coal plants – such as the increase of asthma and heart attacks, the medical cost of air pollution, days lost from work and days absent from school.
Instead of fighting against pollution, the Illinois Clean Job Coalition, made up of 300 environmental groups and clean energy companies, rallied to adopt clean energy. Late last year, they helped pass the Future Energy Jobs Act which will accelerate the growth of solar and wind energy, energy efficiency, and thousands of clean energy jobs in IL. It also ensures funding for solar programs and jobs in disadvantaged communities.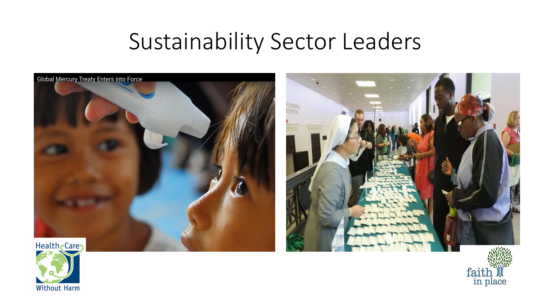 We have also supported leaders making changes in their sectors. Sometimes, it helps to meet people where they are.
While healthcare is steeped in science and allegiant to the Hippocratic Oath, the industry is not very green. In 1996, the founders of Healthcare without Harm pointed out that hospitals were actually impairing their community's health by incinerating medical waste. The resulting dioxin & mercury emissions are particularly harmful to children. Today the group is working around the world to green operations, reduce the industry's carbon footprint, provide healthier local, antibiotic-free food, and remove toxins from practices – including mercury thermometers. Founder Gary Cohen received MacArthur genius grant in 2015.
Nearly every world religion has teachings to steward the earth. Faith in Place empowers religious people throughout Illinois to protect the planet and people. I believe you heard Rev. Sauder speak last month, so I won't go into much detail about their efforts. He's doing an incredible job. Last week, he brought together 500 people from every part of the state and nearly every faith for their annual green team summit.
The past few years we have sponsored a prize at the annual Clean Energy Trust Challenge. Prizes are awarded to early stage cleantech startups, many with roots from Midwest universities.
Last year, our prize went to Sunbuckets, a portable cook stove without flames, fuel or emissions. Charged by the sun in one hour, it provides a high temperature stove for 6 hours – making cooking easier, healthier and more affordable for families in the developing world. The cook stove was designed by a team at U of I Champaign led by Dr. Bruce Elliott-Litchfield.
The year before, we gave the prize to Novomoto. They are bringing micro-grid solar power to rural communities in the Democratic Republic of Congo.  It's cheaper, more efficient, and cleaner than the kerosene and diesel currently used in these communities. The founders are tech & engineering PhDs from UW Madison.
In 2013, LuminAID was the big winner at the Challenge. The founders invented waterproof, inflatable solar powered LED lanterns used for disaster relief.  The latest version also includes a phone charger. Two female grad students from Columbia University founded the company, which is now located in Chicago. They went on to make a deal with Mark Cuban on Shark Tank. We didn't fund the prizes back then. But this month, we organized a Chicago campaign with LuminAID & other clean energy groups to help families left in the dark in Puerto Rico following the hurricanes.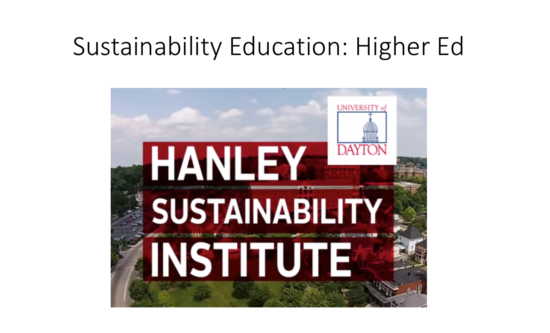 My husband and I helped found the Hanley Sustainability Institute at the University of Dayton in 2014.  This is partly the result of being a grad school dropout. I was a frustrated Northwestern student wanting to take courses in policy and administration, environmental science, human rights, journalism, social entrepreneurship, and food systems. But my program was extremely siloed and limited when it came to sustainability, so I lost interest.
Meanwhile, my husband was a UD grad, served on their board, and was looking to make a meaningful contribution. We helped create an interdisciplinary institute to expand curriculum and programming in sustainability across the university. The institute has helped sustainability flourish in academic programs, campus operations, student culture, and community engagement. It supports research fellows and grants, scholars in residence, student internships, conferences, and many projects.
Now all students can learn about sustainability, energy and environment no matter what major they are studying. We are thrilled to see students leading on these issues on campus and now out in the workforce.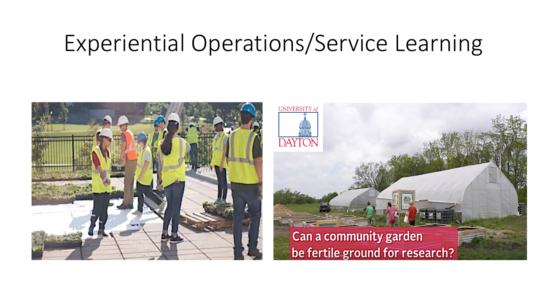 Recently over 40 HSI students helped design and install a green roof on campus. This living laboratory not only looks cool, filters stormwater, and lowers the building's energy costs – students will conduct research with integrated temperature sensors. This project has brought together students majoring in biology, geology, computer science, engineering and political science.
In a community partnership, HSI students also helped develop the Lincoln Hill Garden for a neighborhood in Dayton. They worked on the site design, soil restoration, logo design and branding, surveys with residents, engineering solutions and installation of hoop houses. An environmental sensor network will be used to monitor and research garden conditions and productivity. This year the farm produced nearly 2 tons of food for 80 families that live in a food desert. The project brought together 55 students from engineering, biology, geology, computer science, human rights, dietetics and visual arts.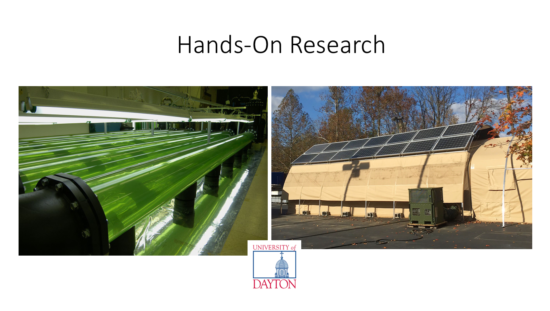 HSI students also collaborate on variety of sustainability related research projects.
The University of Dayton Research Institute (UDRI) designed an outdoor algae production system capable of capturing carbon emissions and producing biofuels. This closed system is economical, fully automated, easy to transport, assemble and operate 24/7 in any climate. It's an Air Force-funded research project.  The U.S. military uses more oil than any other institution in the world. it's also a leader in advanced biofuels and clean energy technology.
UDRI and the Air Force Research Laboratory developed a deployable, self-sustaining "mobile hybrid power system".  This solar and energy storage system, powering this tent, can help bases move away from diesel power. Oil tanker convoys, needed tp power operations, are one of the most dangerous missions in military operations. At the height of the Afghanistan conflict, one in 24 convoys ended in an American casualty. These clean energy innovations can help protect our troops.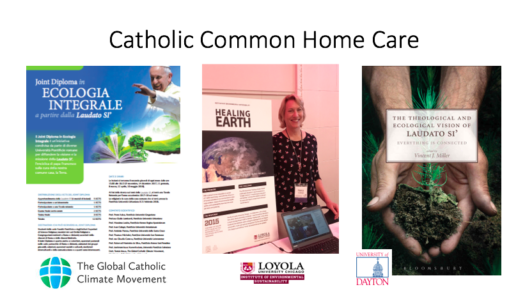 Does everyone know about Pope Francis's Laudato Si encyclical? It's a call to action for Catholics to care for our common home. The Pope asks us to listen to the cry of the earth and the cry of the poor. A few groups I'm involved with are spreading this important Catholic teaching:
I'm on the board of the Global Catholic Climate Movement. We are working to engage 1 billion Catholics around the world with the Live Laudauto Si Pledge, Season of Creation prayer services, the Animators training program, and a an upcoming video with the Pope spotlighting the encyclical.  Partnering with Rome-based Pontifical Universities, the Laudato Si Joint Diploma in Ecology, established by scientific committees, will be launched laster this year.
While we aren't funding any programs at Loyola University here in Chicago, I recently joined their Institute for Environmental Sustainability advisory board. They created Healing Earth – a free online environmental textbook that examines science, spirituality, and ethical issues. It's written by over 90 contributors around the world and sponsored by the Jesuits. Catholic educators are encouraged to adopt this e-book for courses.
The new book, The Theological and Ecological Vision of Laudato Si, was edited by University of Dayton's Gudorf Chair in Catholic Theology and Culture, Vincent Miller. Aimed at an undergraduate audience, this text explores how everything is connected. These resources show how science can be taught alongside religion, stewardship and social justice.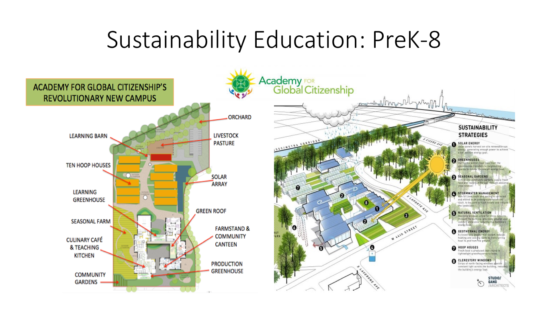 I serve on the board of the Academy for Global Citizenship, a K-8 public charter school near Midway in Chicago. It has an innovative, holistic approach to education with a strong sustainable, wellness, and social justice culture.
We are planning to build a revolutionary new campus with Studio Gang Architects, Rosan Bosch Studio and Growing Power.  As shown in these graphics – it may just be the greenest school in the nation. On a seven-acre plot, 3 acres will be devoted to urban agriculture – 2 greenhouses, 10 hoop houses, seasonal farm, learning barn, livestock pasture, orchard, culinary café and teaching kitchen, and farmstand. We will seek Living Building certification. Net positive energy will be met with solar panels, a geothermal system, and a high performing, energy efficient design. The site will also collect and reuse stormwater, and feature a native playscape. We will teach students science through the school's building environment – inside and out – helping them understand energy, water, food, and nature systems. The building will also be designed with biophillic elements, such as daylighting, nature views, living walls, and easy access for routine time outdoors with nature. Research has shown these features increase academic performance, lower anxiety and reduce sick days. Not only is it healthy for kids to spend time outdoors, given the chance to fall in love nature, they will protect nature.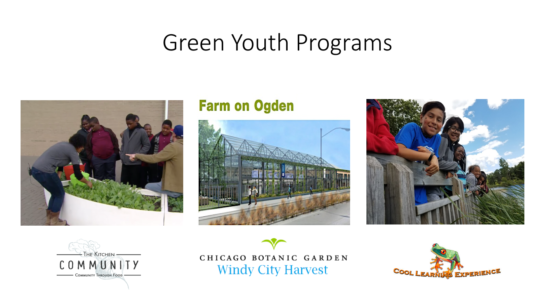 Here are some other green youth programs we support.
Kitchen Community has built 150 learning gardens in underserved Chicago schools. The white, modular, kid-friendly garden structures connect students with real food and empowers them to make healthy choices.
Windy City Harvest, a program of the Chicago Botanic Garden, is an urban agriculture training program that includes a certificate program and a youth farm summer program for teens from disadvantaged communities. The Chicago Botanic Garden and Lawndale Christian Health Center (LCHC) are establishing a new Farm on Ogden. This building will include full scale hydroponics/aquaponics for fish and leafy greens production, a commercial teaching kitchen, a farmer's market and community classrooms.
Cool Learning Experience is a 6-week summer learning program for children in Waukegan that focuses on whole child well-being, community building and nature immersion.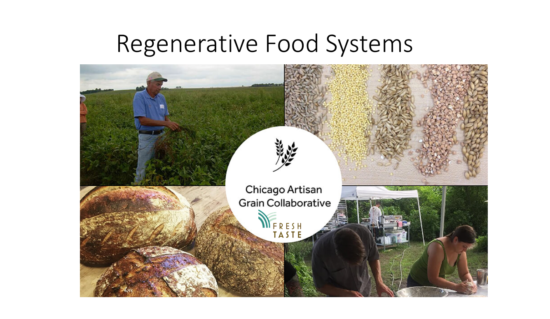 I've been a member of Fresh Taste, which is a collective with other foundations working to relocalize our foodshed and increase access to good food. We've worked on issues from food waste to urban agriculture. As highlighted in the Farm Illinois Plan, IL has the best soil, most abundant fresh water, and plenty of farmers and food enterprises. Guess what 2 food crops IL is the leading producer of? While mostly soybeans and corn are grown, that's FEED for livestock.  When it comes to FOOD people eat, Illinois leads the nation in growing pumpkins and horseradish! Illinois farmers grow only six percent of the produce consumed in the state. Meanwhile, one in six people in Illinois is food insecure.
Working to promote regenerative agriculture in IL, Fresh Taste just won a 3-year USDA grant for their Artisan Grain Collaborative proposal. This exciting plan is to grow and utilize local artisan grains and legumes – for food – in the Midwest. They have gathered an incredible team – organic farmers, bakers/chef/millers including Kendall College, university researchers (U of IL with Bill Davidson), and Plovgh, the distributor of Kernza. Does anyone know what Kernza is? It's a gamechanging, deep root, perennial wheat variety bred by Wes Jackson at the Land Institute. It can be used for bread, beer & booze and has a long list of ecological benefits.  Not only does this collaborative want to help grow and market sustainable FOOD, it will also make sure they reach consumers in underserved communities.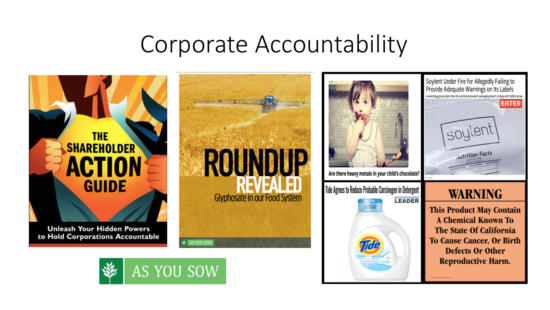 In 2016, I joined the board of As You Sow. They have been engaging corporations to protect the environment and human rights. Based on science and analyses, they file shareholder's resolutions compelling companies to adopt more responsible policies. When shareholders make noise, corporate management tends to take action. Resolutions have called for corporations to adopt clean energy, reduce their greenhouse gas emissions and decrease the use of antibiotics in food. This year I attended McDonalds' shareholder meeting, proposing they phase out toxic polystyrene foam packaging around the world to protect marine life. The voted 32% in favor, which I've been told is meaningful. On a similar note, AYS is calling on Starbucks to phase out plastic straws, another nuisance to marine life.
Last year AYS released the Roundup Reveled report about the dangerous proliferation of the pesticide Glysophate used in conjunction with GMO crops. The World Health Association declares it's a probable carcinogen, also it's also now listed on California list of chemicals known to cause cancer. Trace residues of glysophate have been found in all types of food – even Ben & Jerry's ice cream.  Look for upcoming resolutions with food companies to disclose glyphosate use on grains.
AYS is based in San Francisco, and a lead enforcer of California's Safe Drinking Water and Toxic Enforcement Act (Prop 65). Companies must provide a warning to consumers if its products or processes expose citizens to known carcinogens or reproductive toxicants. Through filing legal notices and negotiating settlements, AYS has brought hundreds of manufacturers and industries into compliance. This work is currently focused on removing heavy metals (mercury, lead, cadmium) in foods, such as chocolate, rice-based baby foods, seaweed snacks and protein bars, powders, and shakes.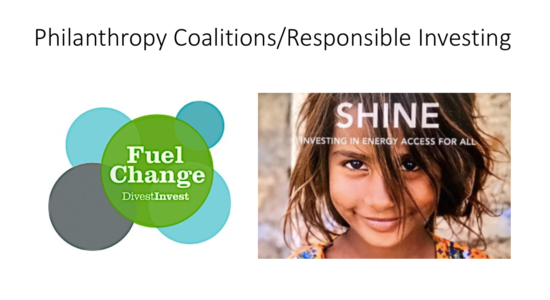 Foundations work together quite a bit behind the scenes. We share best practices, discuss emerging issues and gaps, and form coalitions to solve problems. We've been involved with two collective efforts.
The Divest Invest movement started on college campuses and took off with Bill McKibben's Do the Math tour and 350.org. Basically, 80% of global coal, oil and gas reserves must stay in the ground to avert catastrophic climate change. Since the fossil fuel industry is fueling climate denial and holding stranded assets on their books, the idea is to remove fossil companies from investment portfolios and invest in clean energy. As of last year, local governments, pension funds, faith organizations, philanthropies and individuals representing $5.2 TRILLION in assets have committed to divest. My husband and I prompted UD to divest in 2014, the first Catholic University on the planet to do so. GCCM is promoting divestment in the Catholic world. Last month 40 Catholic institutions announced plans to divest. There's is a petition right now for the Arch of Chicago to divest. This movement has made a huge impact on financial products now available in the marketplace.
We have divested fossil fuels from our personal and foundation holdings. It doesn't make sense for us to support climate protections on one hand and fund opposition with the other.  We want our investments to advance our mission, not undermine it. We also have targeted a range of clean energy, sustainable and impact investments.
SHINE is collaborative effort to invest in energy access for all. Right now, 1 billion people in the world have no electricity. Philanthropy, faith groups and other nonprofits in this coalition will put a percentage of investments or grantmaking to unlock new opportunities. The goal is to end energy poverty by 2030.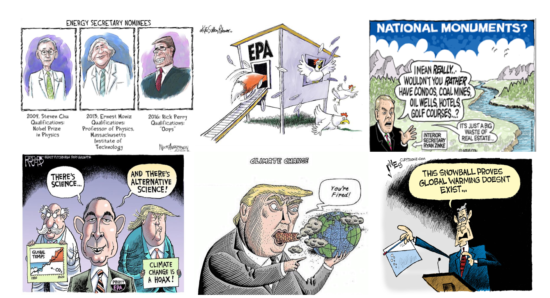 While many amazing things are happening on the solutions side, it's impossible to ignore the SHITSTORM we are now experiencing. Climate deniers rule. Science, facts, experts, evidence based-decision making are under attack. Polluters from the swamp are now in charge. We're seeing nearly all of Obama's environmental protections reversed, budget cuts at EPA, clean energy R&D slashed, a push to resuscitate dirty coal, fossil fuel production on public lands…. Yet we have popular support on our side.  The American majority supports clean air, clean water, clean energy, climate protections, safe food – they don't want to make America grimy again. Plenty of people are fighting back. We need science to keep resisting too.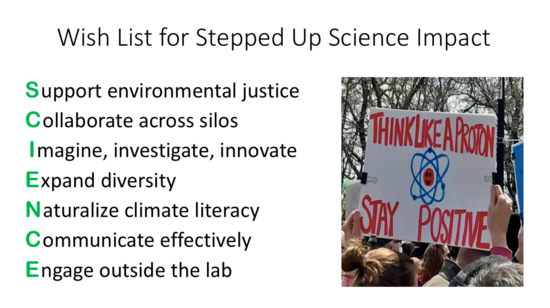 Science helps us protect human health, nature's health, and our communities' economic health. To be more effective, here are the mantras I keep hearing at environmental gatherings. Some may be obvious, but worth repeating for science to make a greater impact.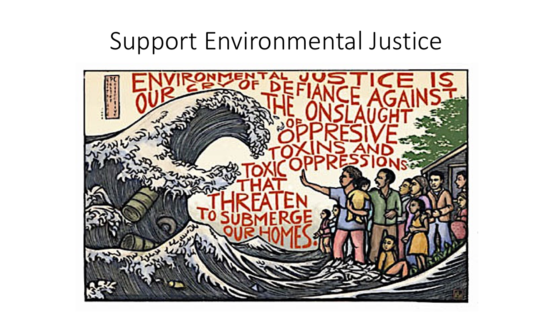 You know the slogan "save the planet"? Well, I'm actually working to save people. When it comes to climate, the world's most vulnerable people will be hurt first and worst. Pollution unfairly burdens communities of color and the poor. Sadly, we are now witnessing this in Puerto Rico. Chicago has a long history of environmental racism, with disproportionate environmental hazards and opportunities in low income communities. We need to better understand intersectionality and the disparities of race, class and gender. Scientists must strive for equity and inclusion, so that solutions involve and work for everyone.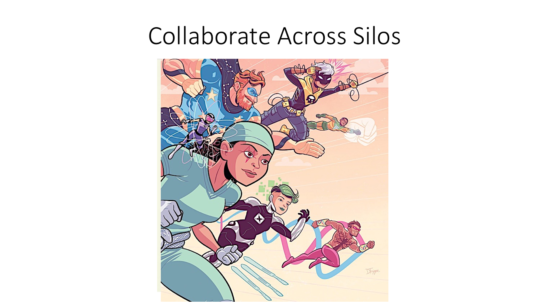 We all have our unique skills sets. Like the Justice League, coming together makes a stronger, more undefeatable force. Of course, there is need for specialization. However, bridging silos and working across disciplines can open our eyes to new ideas and strategies, and lead to discovery and innovation. As I noted earlier, we've seen incredible results with multi-disciplinary teams and projects at UD.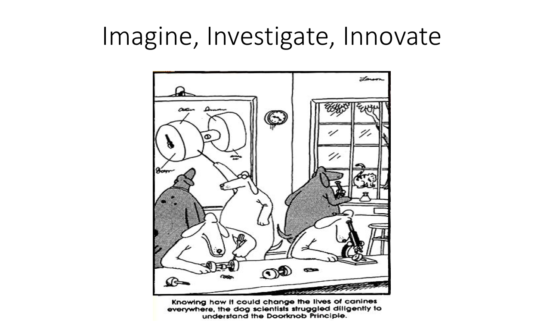 We have big problems to solve. Society needs creative, dogged problem solvers for continued innovation. With the urgency of climate change and all of the other problems the world faces, this is not a time to hold back. You can help change the lives of people on this planet. I'm always so impressed with the ingenuity of students. Tap into your brilliance and passion to make a difference.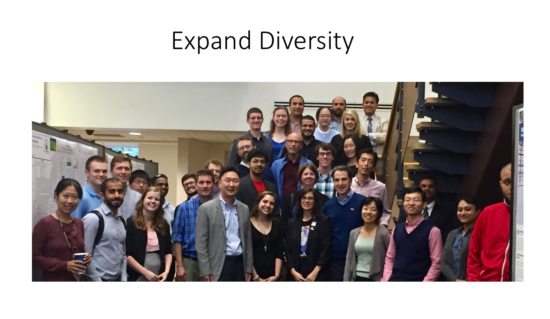 This photo was taken last year at a poster session with HSI research students. While a small sample, it's encouraging to see some diversity. Diversity in science is essential for excellence. Science is a competition of ideas and theories. To solve problems, we need different perspectives from a wide talent pool, not a homogeneous group that may share the same biases. We still have a long way to go. Please do what you can to support, mentor and promote career paths to underrepresented women and minorities in STEM fields.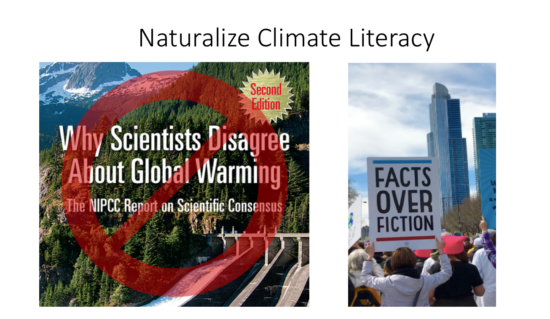 Teachers need to present climate change accurately and completely. This year, the climate denying Heartland Institute mailed tens of thousands of misinformation booklets to science teachers. Several states have declined to adopt science standards that emphasize mankind's role in global warming. We must protect scientific integrity in schools – and keep out junk science and special interest propaganda. I'd love to see academic institutions – public grade schools through college – working to ensure that all students graduate with climate literacy. For example, at LUC, every student must take "Scientific Basis of Environmental Issues" as a core requirement to graduate.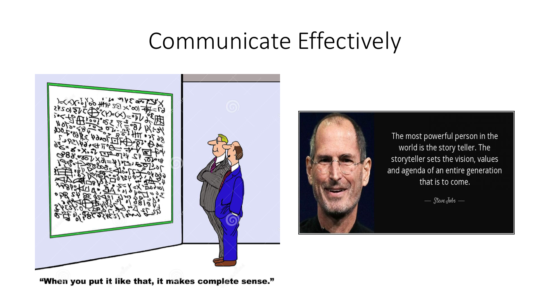 Learn how to translate complex science for the regular guy. Keeping it simple doesn't mean you're stupid. Narratives are as important as facts, and compelling storytelling keeps people engaged. It helps to humanize issues and the costs to society when possible.  Recently I saw Washington Attorney General Bob Ferguson and he said for every lawsuit they file "they always include stories and faces of people put in peril, businesses that can't recruit, universities with students at risk, destructive impacts on environment…" Communicate your science to move people's hearts and minds so they will act.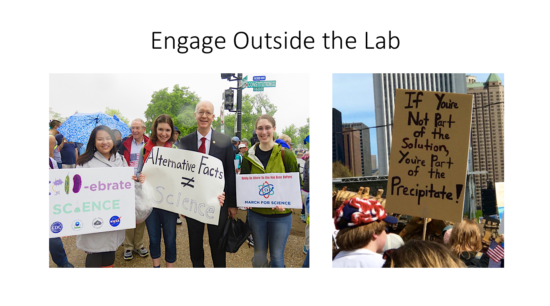 Science protects us – now we must protect science. Step outside your comfort zone, use your voice, demonstrate, write OpEds, run for office, organize, vote, resist! FermiLab physicist-turned-Congressman Bill Foster is a literal poster child – shown here at the March for Science.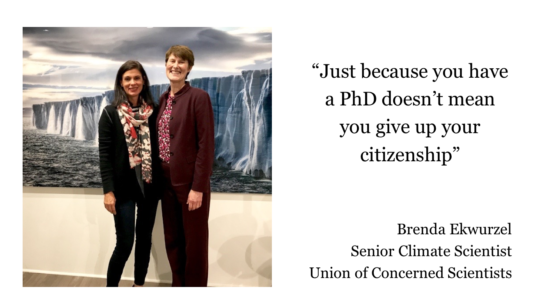 Lastly, some citizenship advice from the Climate & Energy Director of the Union of Concerned Scientists. Obama summed it up best in his farewell speech on democracy when he said, "show up, dive in and stay it."
Science matters. Thanks for YOUR contribution.