Last night's Chicago Community Climate Forum was proof positive the environmental community is mobilizing together in a big, beautiful tent! Starting off only seven weeks ago with hopes a few hundred people would gather turned into a standing room crowd with over 2,000 registrants and 70+environmental and community organization partners! Thrilled to see familiar faces, and excited to meet SO MANY new allies!
President Julia Stash of the MacArthur Foundation stressed, "we need to make sure the new economy is a just economy with opportunities shared by all." Chicago's Chief Sustainability Officer Chris Wheat noted, "all is manifested in communities."
Keynote Mustafa Santiago Ali from the Hip Hop Caucus (formerly Environmental Justice leader at the EPA) started off by honoring his mentor, Chicago's Hazel Johnson, the mother of the environmental justice movement. Her pioneering efforts organized against asbestos pollution in Altgeld Gardens. To win on climate and a 1.5 degree world, fresh air, and clean water, we must include the most vulnerable communities. We need to break down silos and embrace humanity.  He encouraged everyone to get engaged, you have power unless you give it away. He thanked cultural influencers for their environmental justice advocacy, including Chicago-native, Grammy-winning performer Malik Yusef, who took time away from the Jay Z tour in New York to join us. Time to stand up and hold people accountable.
Kuumba Lynx's moving hip hop performance featured dancers wearing face masks set to an "I can't breathe" soundtrack.
Dallas Goldtooth, from the Indigenous Environmental Network, said the fight ain't over. We have no other choice than nonviolent, mass movements to "Keep It In The Ground." Their self-determination, sovereign rights, air, water, bodies, way of life, the integrity of Mother Earth is on the line. It's time to assert our economic clout, and call for Chicago to divest now. We are our ancestor's wildest dreams.
Anthena Gore, from Elevate Energy and Environmentalists of Color, shared her personal energy burden story. As a 2-year-old diagnosed with lead poisoning, her family had to make difficult choices between high electric bills or food, on top of discovering unsafe lead in their home and dealing with crime outside. This is real life for a bunch of Chicagoans. We must take collective responsibility to ensure a clean, efficient energy future for all.  The Future Energy Jobs Act is a good start.
Abigail Derby Lewis, from the Field Museum, pointed out our urban wilderness faces the same stresses as the Amazon rainforests – development, degradation, invasive species and climate change. We all need and benefit from nature. Inaction is itself action. We must take steps to protect and experience nature, and make the city more livable and resilient.
Alex Poltorak, from The Urban Canopy, discussed the reality of food insecurity and their urban agriculture efforts to create a more sustainable and equitable food system with indoor farms, outdoors farms, a CSA, farmers markets and composting services.
Toni Anderson, from the Sacred Keepers Sustainability Lab, said we are the climate we have to change. We shouldn't be fighting for the right to stay blind and go backwards. She is working with youth that have brave hearts and fearless will, who will need to fix problems they didn't create. To "plant freedom" – they are learning about nature, science, conservation, consumption, waste, global resources, needs for livable communities, art.  It's all interconnected.
Kimberly Wasserman Nieto, environmental champion from the Little Village Environmental Justice Organization, challenged us to sincerely and deeply engage with frontline communities in an intersectional, inclusive way. She introduced the Chicago Agreement on Climate and Community and the accompanying video.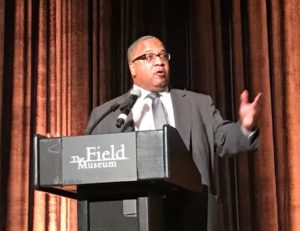 Pastor Vance, from Faith in Place, urged the crowd on. Never underestimate the power of the good you are doing. There is power in this room! Never underestimate the capacity of the heart. This ain't no dream – we have a mandate. This is a spirit thing. Never underestimate the significance of our diversity. No accident all kinds of people in this room. While diversity can be used to divide – diversity is our strength. Working together, we must push boundaries of inclusivity and speak for the marginalized, the least of these, all of God's children. We must march for justice and not forget Standing Rock, Flint Michigan, water problems here in Chicago, Puerto Rico/Virgin Islands/Houston hurricane, Mexican earthquakes, casualties of wars, gun violence, immigrant disrespect and human neglect. Rise up and claim power. Be part of this movement. Stay in the game.
You can take part by signing the Chicago Agreement on Climate and Community here. Stay tuned, more to come from this mighty coalition with hosting future events and pushing the City for just, sustainable progress.
Sincere gratitude for the incredible teamwork putting this together, with our steadfast leader Amy Rosenthal (Field Museum), Ana Garcia-Doyle (One Earth Film Festival), and Jamie Ponce (ELPC).
Also, thanks you Academy for Global Citizenship students (parents & staff) for participating in the video, creating lovely Climate Solutions artwork displayed on the projection screens, and attending.