Wow, As You Sow (AYS) is celebrating its 25-year anniversary! Congrats Board Chair Tom Van Dyck for founding this visionary advocacy group, CEO Andy Behar for leading the gamechanging course and the entire powerrhouse team for keeping corporations accountable when it comes to the environment and human rights.
In 2016, I joined the AYS board because they are effectively creating positive, durable change from a different vantage point. They are empowering shareholders and engaging companies to adopt strong social and sustainable policies from the inside. Diving into the full range of AYS's research, reports and shareholder actions, it's also interesting to learn which corporations are leaders and laggards.

Engaging Corporate Management
Over the years, AYS has filed hundreds of shareholder resolutions, a record 56 in 2017. This has led to dialogues, engagements and altering business as usual at some the largest companies in the world. Here's a sampling of some issues they have taken on.
With climate change in mind, AYS has been cautioning investors about the risks of fossil fuel energy in reports including Unconventional Risks: The Growing Uncertainty of Oil Investments and Disclosing the Facts: Transparency and Risk in the Hydraulic Fracturing Operations. In 2013, AYS filed the first ever resolution calling on companies to recognize and assess carbon asset risk. After years of collaborative work with other groups, pension funds, asset managers such as BlackRock, and Moody's are now beginning to take carbon risk into account. Next, companies need to create and disclose transition strategies for a low carbon economy.  This year, AYS co-filed a carbon asset risk and climate scenario planning resolution with Occidental which received a whopping 67.3% vote in support. Other energy resolutions filed have included fracking/methane leak disclosure and management; policies to ensure indigenous rights in the financing of pipelines; de-linking executive compensation from increased oil and gas reserve replacement; and detailed political lobbying information.
AYS is also building investor support for sustainable food in response to consumer demand. This year, a resolution to phase out medically important antibiotic use by Sanderson Farms, the third largest poultry company, was supported by 31.5% of shares. Another resolution with McDonald's tackling antibiotic use in pork and beef was supported by 32% of shares. Following their report, Roundup Revealed: Glysophate in Our Food System, a groundbreaking analysis into the dangerous proliferation of potentially carcinogenic glyphosate pesticide used in conjunction with GMO crops, look out for future resolutions urging food companies to disclose glyphosate use on grains. Other environmental health resolutions have called for phasing out neonic pesticides to protect pollinators; removing nano materials from foods; making kid-related movies smoking-free; and removing toxic chemicals from products.
Additional resolutions filed have focused on stopping rainforest destruction; making consumer packaging more sustainable; phasing out polystyrene to reduce ocean plastic pollution; recycling electronic waste; setting recycling goals for the carpet industry; adopting policies for labor rights policies; and removing slave labor from the supply chain.

Empowering Shareholders and Investors
Shareholders can be a powerful voice. When they demand change, companies pay attention. AYS has been helping shareholders vote their proxy in alignment with their environmental, social, and governance (ESG) principles. They have developed instructive guides to bolster shareholder power  including Proxy Voting Guidelines 2017 and Shareholder Action Guide: Unleash Your Hidden Power to Hold Corporations Accountable (authored by AYS CEO Andy Behar).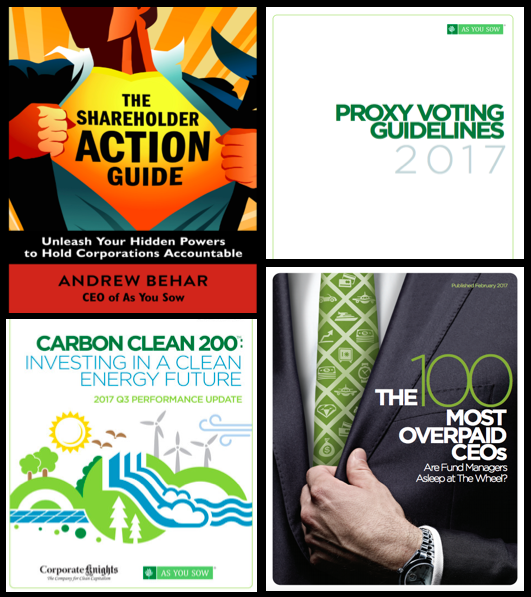 AYS has also created pioneering financial transparency tools to help investors know what they own. Without these valuable fund trackers, it's daunting to weed out investments that are not mission aligned. If you want to divest from fossil fuels companies – see Fossil Free Funds or the Fossil Free 401(k) Toolkit. Or purge palm oil companies  – see Deforestation Free Funds. Or avoid tobacco companies and entertainment companies that promote smoking – see Tobacco Free Funds. Or dodge companies with excessive, disproportionate CEO pay (that tend to be underperforming) – see The Top 100 Most Overpaid CEOs.  And, if you want to support the top public companies ranked by clean energy revenues – see Carbon Clean 200: Investing in a Clean Energy Future.  Plans for upcoming search platforms include War Free Funds, Gender Equity Funds and Prison Free Funds.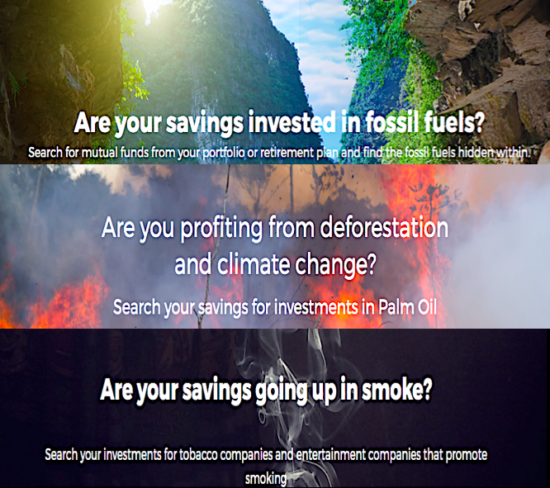 Enforcing Toxic Protections
Since 1992, As You Sow has been a leading enforcer of California's Safe Drinking Water and Toxic Enforcement Act (Prop 65). This consumer right-to-know law specifies that a company must provide a warning to consumers if its products or processes expose citizens to known carcinogens or reproductive toxicants. Through research and testing that identifies threats to filing legal notices and negotiating settlements, AYS has brought hundreds of manufacturers and whole industries into compliance. So far, victories have included eliminating or reducing lead from children's jewelry, baby powder, herbal supplements, water valves and sports equipment; eliminating or reducing toxics from cosmetics, toys, portable classrooms, laundry detergent and vinyl products; as well as providing warnings to consumers about mercury in CFLs, fish and dental amalgams. Current work to protect consumers from toxic exposure is primarily focused on removing heavy metals (mercury, lead, cadmium) in foods, particularly in chocolate, rice-based baby foods, seaweed snacks and protein bars/powders/shakes. Where settlements have included restitutionary funds, AYS distributes a portion funds to community groups working on toxics and environmental education through grants.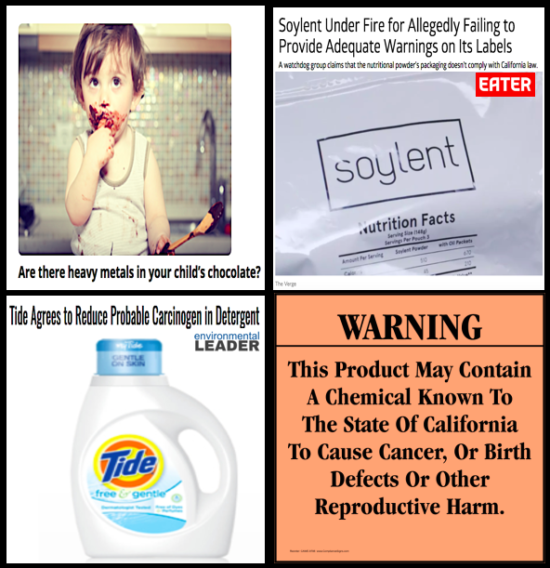 Advancing Responsible Sourcing
The Responsible Sourcing Network (RSN), a project of AYS, is working to end human trafficking and forced labor in the supply chains of products we use every day. They are raising awareness of forced labor with corporations and building responsible supply chain coalitions primarily in the areas of conflict minerals and slavery in the cotton fields. RSN created the Cotton Pledge against forced labor in the Uzbek cotton sector that now has 274 signatories representing a $1 trillion market value (including Adidas, Disney, H & M, IKEA, J Crew, The Gap, etc ). They also created YESS: Yarn Ethically & Sustainably Sourced, an initiative to increase the use of ethical and sustainable cotton. RSN's minerals program promotes systems that ensure the responsible mining of minerals from point of extraction through to the melting down of ore. Their annual report Mining the Disclosures analyzes and ranks 200 of the largest market cap corporations' activities to address conflict minerals.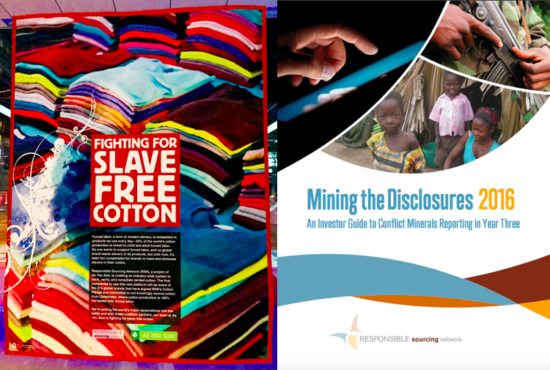 THANKS, As You Sow, for the plentiful seeds of change you've planted, we all reap the benefits. Here's to leaps and bounds of progress in the years ahead!