After attending several climate conferences this past month, I'm encouraged by plentiful reminders that good things are happening despite the relentless rollback of environmental protections. Two promising developments worth keeping an eye on:
Climate Lawsuits
During Climate Week at the Climate Denial, Impacts, & Liability talk, I heard about new studies that have unearthed the fossil fuel industry's knowledge of global warming and also their contribution to it. While I'm not a climate scientist, I had the honor to meet Brenda Ekwurzel, a REAL climate scientist who directs the Union of Concerned Scientists' Climate and Energy Program. She recently coauthored a pioneering study that quantifies climate change impacts. They found emissions traced to 90 large carbon producers contributed around 57% of the observed rise in atmospheric carbon dioxide, nearly 50% of the rise in global average temperature, and around 30% of global sea level rise since 1880. This new framework can help identify who is responsible for climate change, and who should pay for the cost impacts. Geoffrey Supran, postdoctoral fellow at Harvard and MIT, shared findings from a recent study he co-authored that confirms Yes ExxonMobil misled the public. With peer-reviewed, transparent research analysis, they studied the firm's 40-year history of communications on climate change. The found a systematic discrepancy between what ExxonMobil scientists communicated in their scientific articles and internal reports, and what the company told the public in "advertorials" (paid editorials every Thursday for 29 years!).  This critical research will underpin a range of climate lawsuits popping up.
Alex Loznak, one of the 20 youth plaintiffs in the landmark climate lawsuit against Trump, updated us on the case. Over the past two years, two federal judges have already ruled in their favor – this case is going to trial on Feb 5 in Oregon. He said, "The current generation of political leaders is failing miserably. The voice has to be my generation – we will live through all these devastating impacts. We will do everything we can to fight for our future. We have fundamental rights for a livable environment ." As a student at Columbia, Alex has also been exploring decarbonization plans on record with the US government since the '80s & '90s. He noted, "Imagine it they didn't shelf them. We could do this and should have before I was born." The following week at the EGA conference, I also heard from 17-year old, Earth Guardian activist Aji Piper.  He first sang "Danger Up Ahead" on his ukulele – his preferred form of protest. He's another one of the youth plaintiffs suing the Trump Administration in the climate lawsuit calling for a livable future. He said he was thankful to be with us: 1) to get out of school and 2) to see adults fighting for something good, which gives him hope.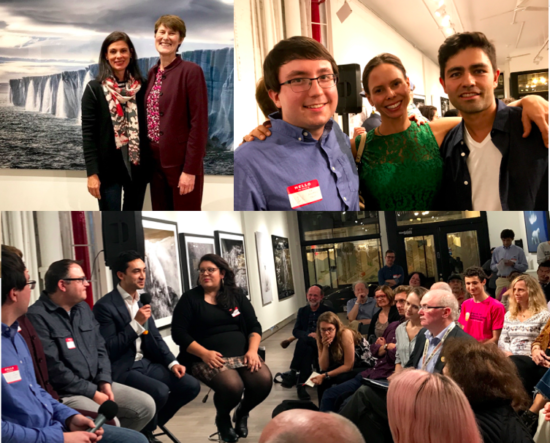 In addition to Our Children's Trust lawsuit, another significant climate case has been set in motion. Three coastal communities in California are suing fossil fuel producers for damages expected from rising seas.  As reported by the Washington Post, Marin and San Mateo counties and the City of Imperial Beach claim that industry "knew or should have known" decades ago about the threat of climate change, and want companies to pay the costs of communities forced to adapt to rising seas. Other legal challenges at hand include attorney general and SEC probes for misleading investors and class action lawsuits from shareholders. The recent OpEd by Jeffery Sachs, Big Oil Will Have to Pay Up, Like Big Tobacco, suggests fossil fuel companies will soon face financial reckoning as courts hold them liable for damages caused by climate change. Winning cases could be a pivotal driver of change – we must insure liability immunity is not tucked into any legislation going forward.
 "Litigation Resistance"
At a Natural Resources Defense Council gathering during Climate Week, NRDC President Rhea Suh thanked New York Attorney General Eric Schneiderman for protecting democracy and the values we hold dear. In addition to suing Trump over his for-profit university, Muslim Ban, and DACA repeal – he's also investigating Exxon Mobil for misleading investors about climate change risks. Despite ExxonMobil's relentless delay and scorched earth campaign, he stated, "They will not shut us down."  Our country has been taken over by climate deniers working to dial back environmental protections. Yet, he pointed out, Americans overwhelmingly want clean air and water. "We don't want to make America grimy again." Schneiderman said he takes strong offense to the total disregard for rule of law and will fight back to defend people. If Scott Pruitt will not enforce the Clean Air and Clean Water Acts, we will fill in the gaps and check the administration. Fortunately, he's had years of experience litigating to protect the environment and thankful NRDC has been an effective partner. So far, they have successfully challenged the Trump administration's attempts to ignore methane pollution, stall ozone/smog rules and rollback energy efficiency appliance standards. Schneiderman praised local governments, businesses, institutions and citizens for galvanizing unprecedented opposition and reminded us, "the constitution is not designed for a passive electorate."
The following week at the EGA conference, I heard from another stalwart, winning Attorney General.  Washington's Bob Ferguson said his life changed significantly since Trump's election – they've filed 15 lawsuits against the Trump administration to stop the Muslim ban, DACA repeal, and the rollback of various environmental protections. So far 4 cases decided, 4 cases won! The reason why he's been so successful? Frankly because the Trump administration is so unbelievably sloppy. In courtrooms, it's not the loudest voice and most tweets that prevail, you must follow the law. For every lawsuit, they include stories and faces of people put in peril, businesses that can't recruit, universities with students at risk, destructive impacts on environment… Sadly, the assault on the environment will undoubtedly continue. Ferguson is thankful (SO AM I) we have the ability to challenge these attacks on civil rights, immigration and environment in the courts. The future of the Constitution is at stake, American values are at stake.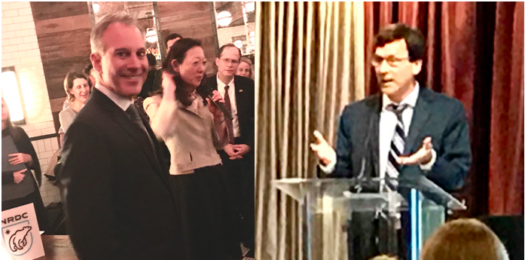 Meanwhile, NRDC and other environmental groups refuse to let the Trump administration roll back climate progress without a fight. So far, NRDC has sued the the Administration 35 times. Follow Trump Watch to keep up with nonstop assaults on the environment and, in response, the challenges (and victories) in the court room.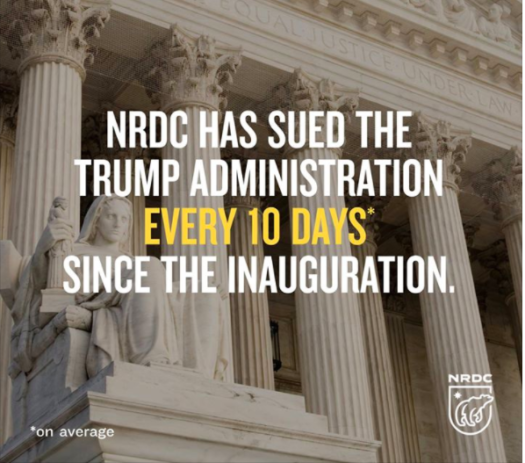 While Trump, his administration and the Republican-led Congress strip back decades of environmental protections to the delight of polluting industries (see PBS Frontline War on the EPA), let's hope the rule of law will ultimately serve the public good.